pad continues !
After having lost our great own stage and venue performance art depot, pad e.V. is now continuing online and in/at other locations in Mainz.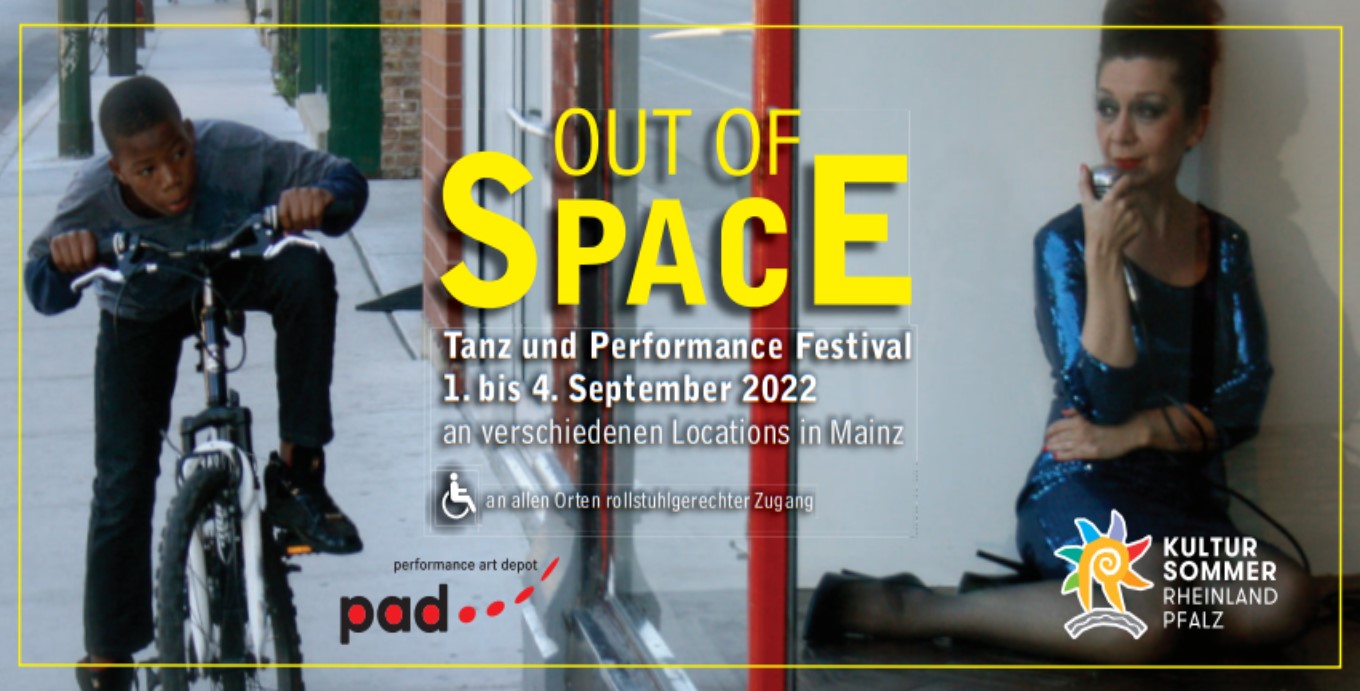 pad is back! After the loss of the unique Mainz performance stage and a two-year Corona break, the performance art depot team is happy to finally be able to invite you to a dance and performance festival again. From September 1st to 4th we will show a BEST OF well-known and newly discovered performance groups with extraordinary and innovative performance, dance and video productions as well as an international pad-production by Schmitt&Schulz.
OUT OF SPACE leaves the usual path and creates a patchwork performance platform consisting of bar, club, gallery, shop window, street and internet. Accompanying the live program of the festival, there are short films and interactive online performance art in the digital bonus offer. At the final get-together, the festival artists meet with the audience in a cozy atmosphere over coffee and cake. For details on the program, see the menu under current program.
We wish you lots of fun exploring, experiencing and discovering!
Your pad team Direction: Nic Schmitt and Peter Schulz
Assistant: Lena Wagner
Technology: Moritz Walker
supported by:

Supported by ProfilSoziokultur we are currently working on a new website and an alternative sollution for our location problem.
___________________________________________________________________________________
march 2020:
The end of our great and one and only performance venue of Mainz 
After twelve years of great performance program we are very sad to be now forced to give up our nice and cosy performance homebase!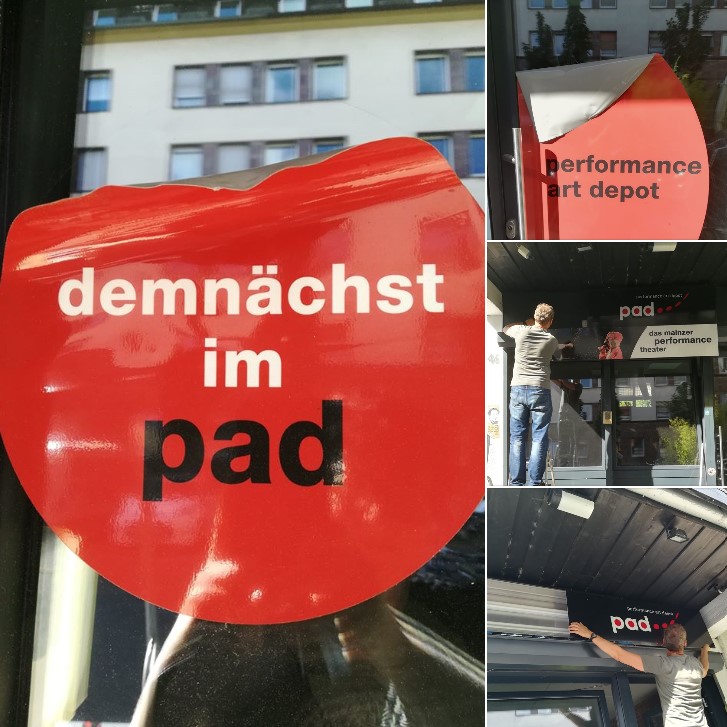 In the first half of 2020 we unfortunately had to move out of the 600 square meters big cellar in Leibnizstraße 46 in Mainz.
The new rent is far too high for our small budget. On first of July the keys were given to the new owner of the building, which is now completely empty.
pad e.V. is now an Organisation without an own venue. A new bureau we could find on the other side of the street, in Leibnizstraße 47.
Lots of our great things in pad we had to give away, some of the most important Equipment we could store in two different storage rooms that we rented.
So we are still able to organize cultural events in other spaces and venues.
For our own productions as Schmitt&Schulz, we found a rehearsal space in an old building of a former elementary school in  Bad Kreuznach, a small city in the near of Mainz (see picture).  The productions we will still show in Mainz, maybe in the KUZ, a venue that artist groups from Mainz can rent for single events.
Also our foyer furniture found a new home there, in a cafe within that building.
Our neon sign is now stored in the cellar of that building and is waiting for new challenges 😉
Also the International Dance and Performance Festival we are going to plan again, Maybe in future a bit different then in the past.
This year it had to be cancelled because of Corona virus, after we were almost finished organizing it.
At the moment we are working on a new production that we hope to be able to show in winter, also we are working on an online version of our Improvisation project nonstoponstage, that we plan to show already in summer for the first time and we are working on two solo performances to be shown live for small audiences at the end of the year.
So it's going on !!! 🙂
For the future we hope to find a new Homebase in the so called "Kulturbäckerei", a center for social and cultural projects and groups, that we are planning since may years already together with an organization team and that is going to be opened in 2023, if everything goes well.
For the moment - after all that organization stress of moving out and building up new structures and plans - we now first need some holiday and so we wish all pad and Schmitt&Schulz fans a great summer!
See you all soon 🙂